Highland Woodworking has posted a great review of Sterling Tool Works Roubo Curves, the large format Stainless steel french curves for artisans that want to bring curves to their work. A big thanks for the reviewer Jeffrey Fleisher for a great tutorial.  Check out Jeff's site here.
Find the full review at the Highland website here. Here is an excerpt:
Now that we have cleared up what a french curve is, how does it work? If you have a sequence of points that you want to draw a smooth line through, you can use a french curve to draw a series of line segments that will flow through all of the points. As shown in the diagram below, you can select a section of the french curve that best fits the first three points and another segment that fits the next part of the curve. You walk your way along the curve in this manner. You are connecting the curve of one segment into the tangent of the next segment to provide a continuous smooth curve among all the points.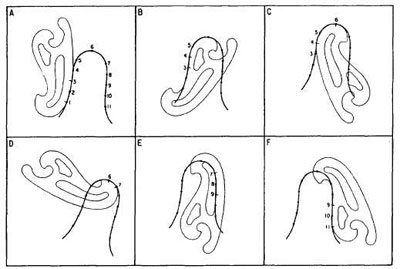 The large size of Sterling's Roubo Curves lets you draw these smooth curves on full size drawings as well as directly onto your wood pieces. For example, if you were drawing the curves along the lower rail of a low boy, you could draw them in full size with these templates. The following picture shows an example of using Sterling's Roubo Curves to transfer the shapes from this low boy to a board. You can mark the transition points and then use the various segments of the curves to draw a smooth curve as described earlier.
Again check out the entire review here.