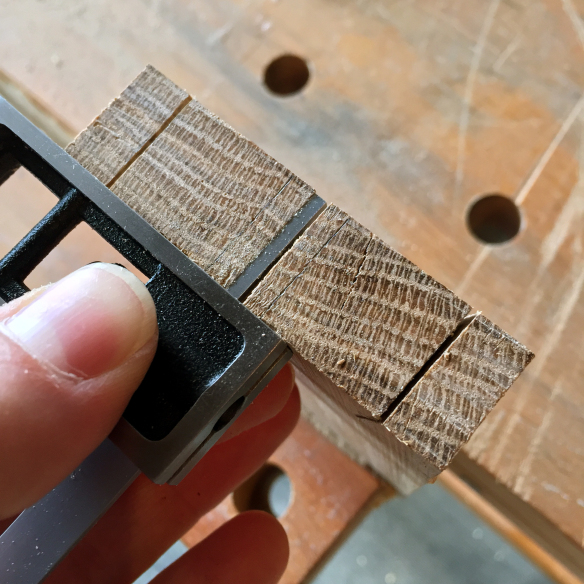 The Dovetail Square is an excellent tool to help diagnose potential issues with your Dovetails before they become gaps in your assembled Joint. The Heart of this tool is the Sterling Dovetailing Ruler and was inspired by pattern makers squares that have been around for decades.  We designed our reduced size blade for woodworking and to fit commonly available squares. Sterling Tool Works was the first to make a reduced size blade longer for excellent diagnosing especially with "london" style dovetails where the pins meet to only a kerf.  The length is 2-4 times longer than vintage tools for use with thicker stock or "gang cutting" 3/4″ and thinner panels.  The Sterling Dovetail Ruler, better by design and functionality.
Sterling tool Works offers this capability in three options:
A complete Double Square Kit, the Dovetail Square, and the Dovetail Blade/Ruler. All  Made in USA – Superior quality. Click on the Store tab above to purchase.

The Double Square Set Option:
This precision square is supplied with one traditional graduated rule and a dovetailing rule providing a very versatile tool with many uses. The standard rule provides a wonderful compact square with excellent accuracy rivaling common machinist square accuracies of .001" per inch, per U.S. federal standard: GGG-S-656E. Available with either a 4″ or 6″ precision etched rule with chrome satin finish with blackened etches that is easy on your eyes for excellent contrast and improved accuracy.
The included Sterling "Dovetailing Blade" is incredibly handy for checking the squareness of your dovetails to ensure excellent fit and "gap less" joints after assembly. The reduced size of one end of the un-graduated rule allows precise checking of squareness in even some of the tightest "London style" dovetails. Regular size rules simply cannot reach into the spaces the Sterling Dovetailing Rule can. The Dovetailing Rule / Blade is hardened, precision ground and finished with the same satin Chrome finish as the standard rule.
The powder coated square casting provides the accuracy required but avoids the stock-heavy feel of a solid machinist's square, providing excellent balance and feel. Rules lock securely in any position from full left to full right with the tightening of the knurled thumbscrew.
The Sterling Double Square set is available with these precision etched rules:
4" Length with English/Metric graduations = .5mm, 1mm, 32nds, 64ths
6" Length with English/Metric graduations = .5mm, 1mm, 32nds, 64ths
6" Length with 4R graduations = 8ths, 16ths, 32nds, 64ths
The Sterling Dovetailing Square:
This option is the Dovetail Square without a graduated rule, if your current squares are not compatible with the Dovetail Blade this is an excellent option that will always be at the ready.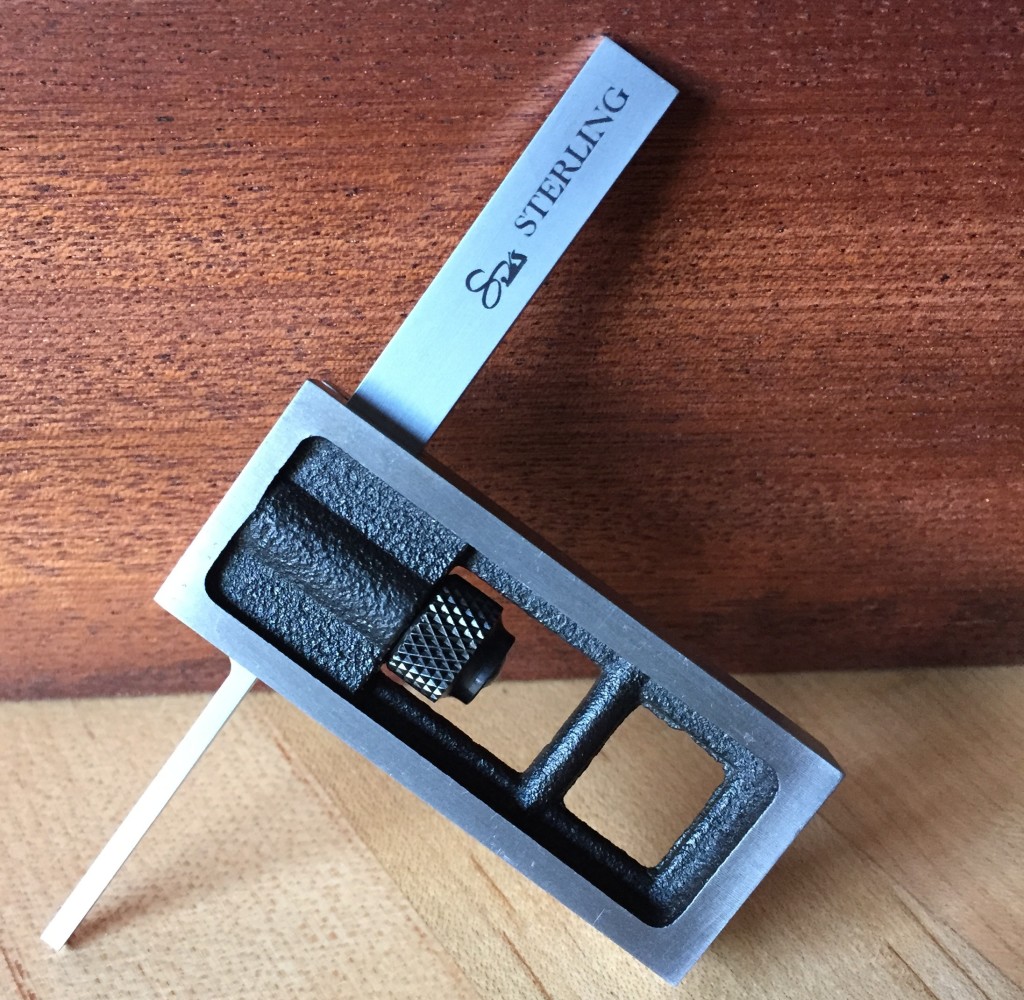 The Sterling Dovetailing Blade:
Also available separately without the double square stock. I cannot guarantee that the Dovetailing Ruler will fit ALL other makers squares but I have tried a handful of other makers 6" combination squares I had on hand such as Starrett, Goddell Pratt, Brown and Sharpe and the dovetailing rule clamped perfectly in both vintage and contemporary squares.  The dimensions of the Sterling Dovetail Blade are: 4″ long, by .330″ tall on the taller end, .90″ on the smaller end and .075″ thick!
NOTE: 4″ Starret Squares will not accept the Original Dovetail Blade.
UPDATE March 2017: We introduced the DTR-2 unit that will fit Starrett 4″ Squares. Purchase them here.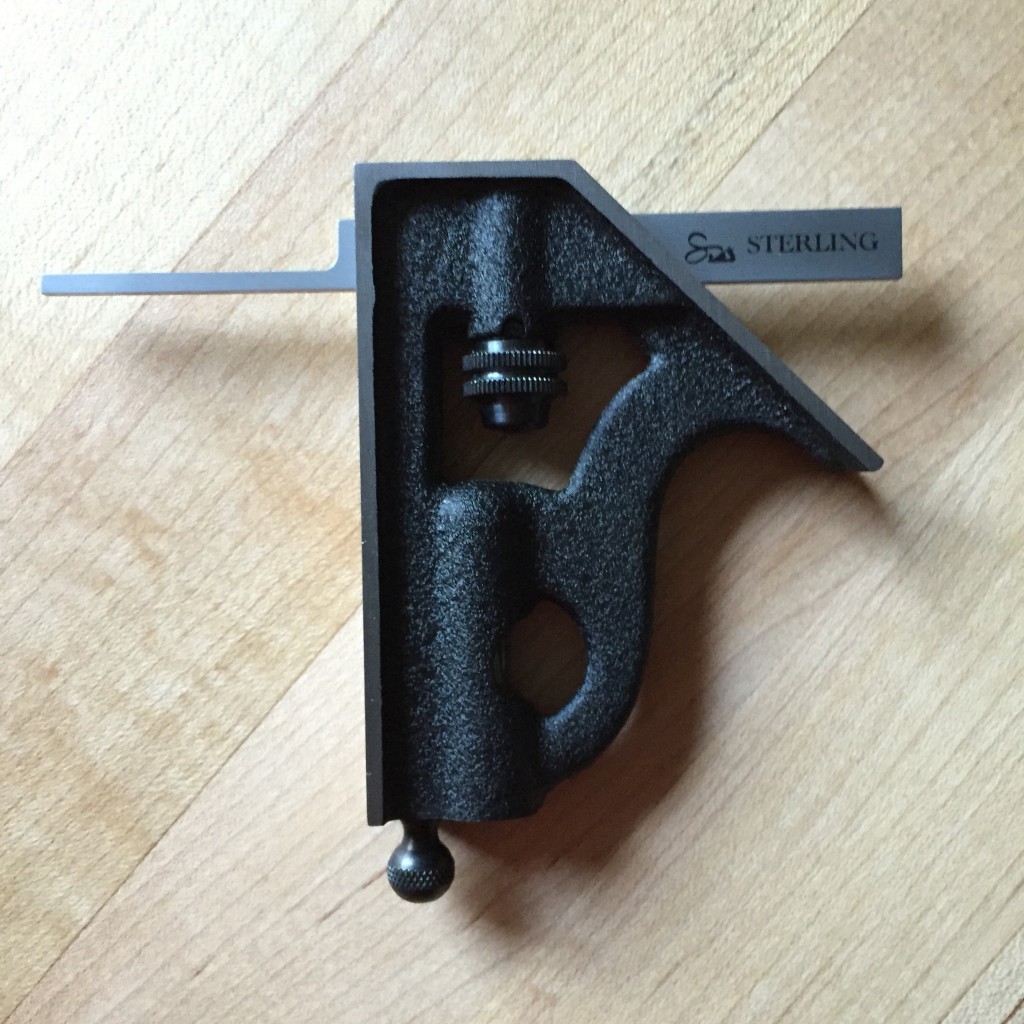 Copyright © Sterling Tool Works LLC 2013-2017