Here we have a special place for non tool items and fun things that are not necessarily for woodworking but are fun items that we thought customers might enjoy to help spread the word and help Sterling Tool Works grow.
PLEASE CLICK ON "STORE" TAB IN THE MENU ABOVE TO BUY
Sterling Tool Works Router Plane Wallet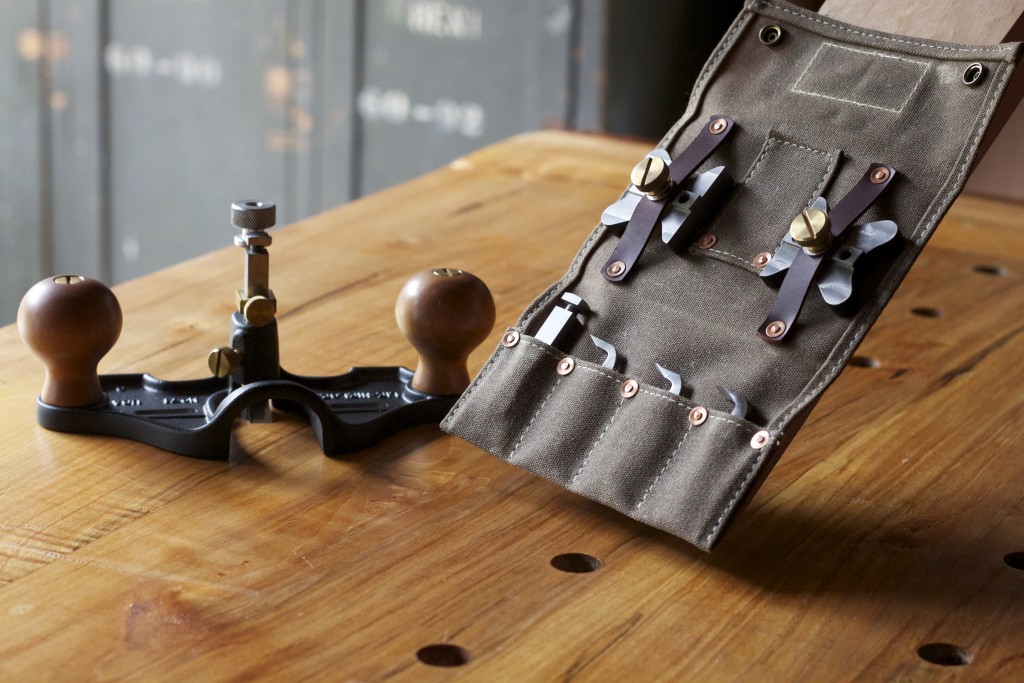 The Sterling Router Plane Wallet was first introduced at WIA2014 and is a collaboration with Jason Thigpen at Texas Heritage Woodworks. Jason has brought this idea to fruition with his impeccable leather and sewing skills for a premium product that will last a very long time. Made from 14.7 oz waxed cotton canvas, with hand peened copper rivets at all the stress points to ensure long life.
The Router Plane Wallet is for all your Router Plane accessories that frequently get misplaced. More info on the Router Plane Wallet can be found here. 
With spaces for 5 accessory blades or blade adaptors and two router plane fences you will no longer misplace the small but very important accessories for your Router Plane with this excellent wallet.
Sterling Tool Works Winter Wool Hat 
With the colder than normal temperatures we are experiencing this winter, (along with the continuing reduction of hair on my head) I decided it was time to offer a winter edition of a Sterling Tool Works hat to keep your noggin and ears warm.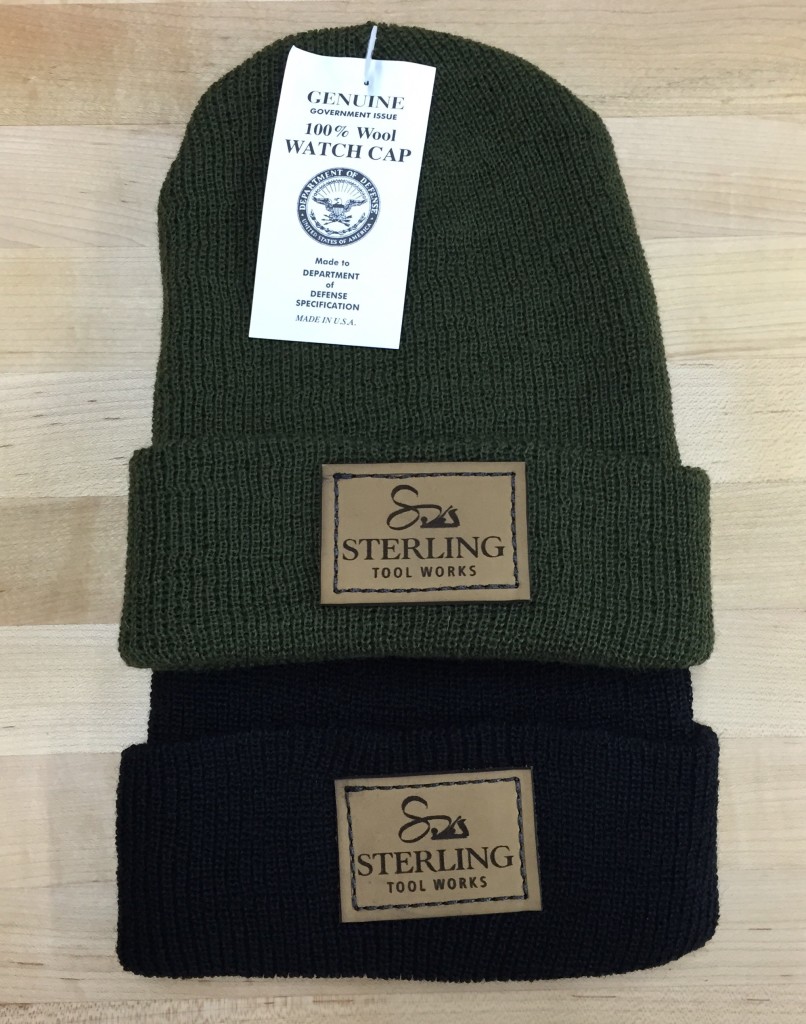 I am offering this Hat in Green and Black.  Its made in the USA from 100% Wool.  I partnered with River City Leather an artisan leather company owned by Aaron Buckley in  Ohio.  He does excellent work, the Sterling logo is embossed into a high quality leather patch with a laser and then sewn to the hat brim.   Price is $20 plus shipping.
Sterling Tool Works T-Shirts and Hats
These T shirts are made in the USA from American Apparel, they are super comfy T shirts and sport the Sterling Tool Works Logo proudly screened front and Center!  Colors are Cranberry, Black and Grey and are currently available in Small, Medium, Large and Xtra-Large – $20 each.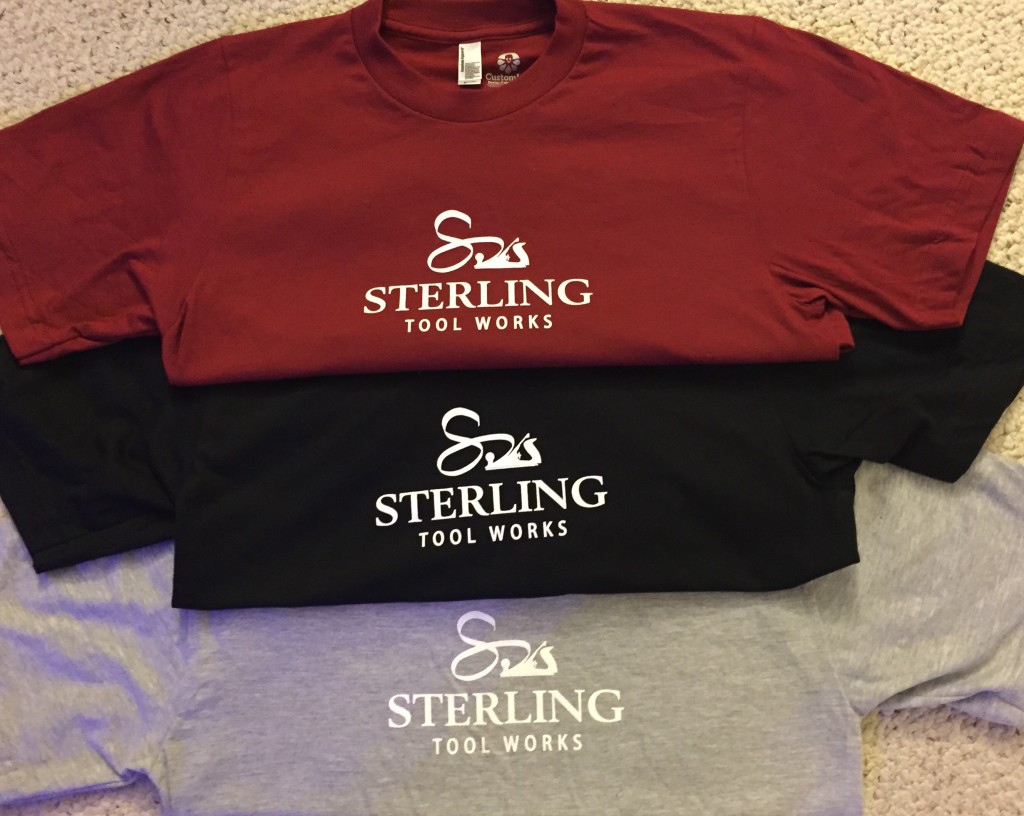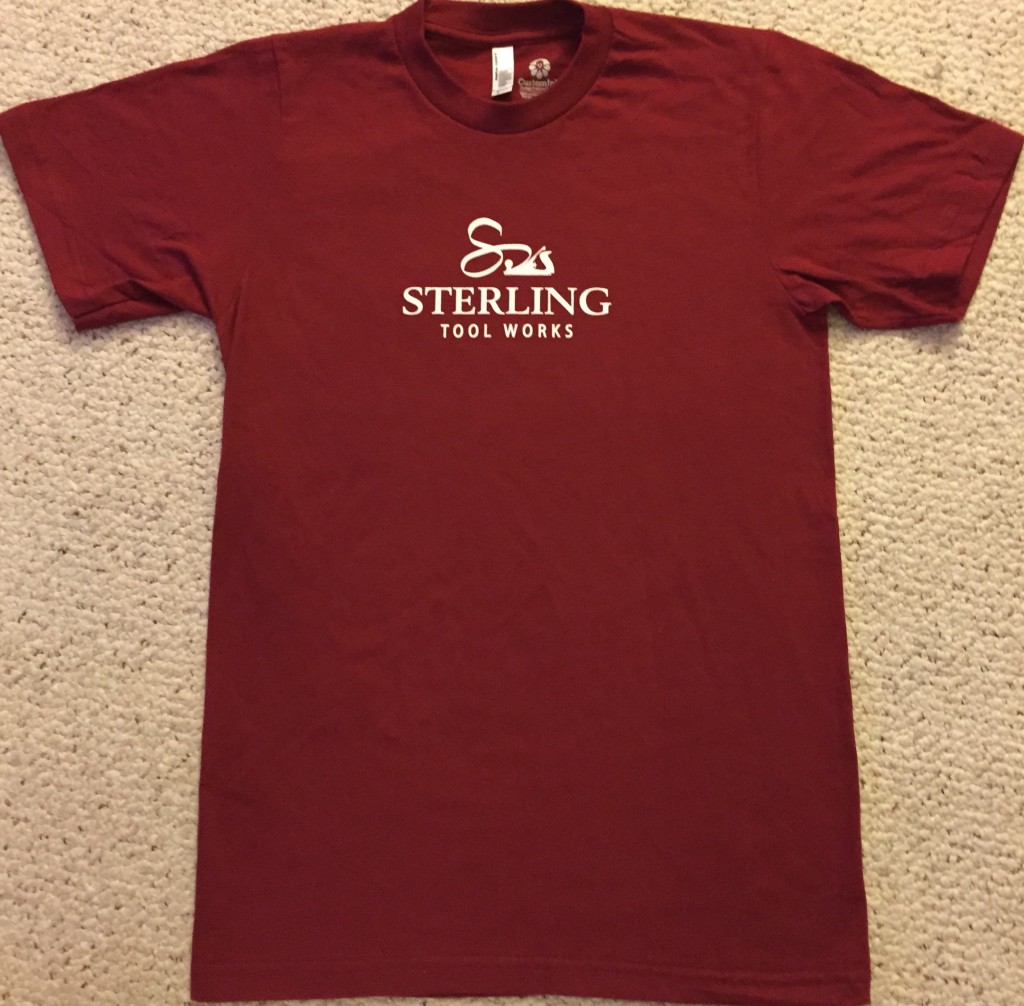 Sterling Tool Work "Ball Cap" Hats are embroidered by Sarah Thigpen of Texas Heritage Woodworks.  Sarah is married to Jason who makes the fabulous Saddle-Slings for me as well as my prized shop apron.  Check out Texas Heritage here.  Hats are universal fit with a leather strap and metal clasp (picture below) – $20 each.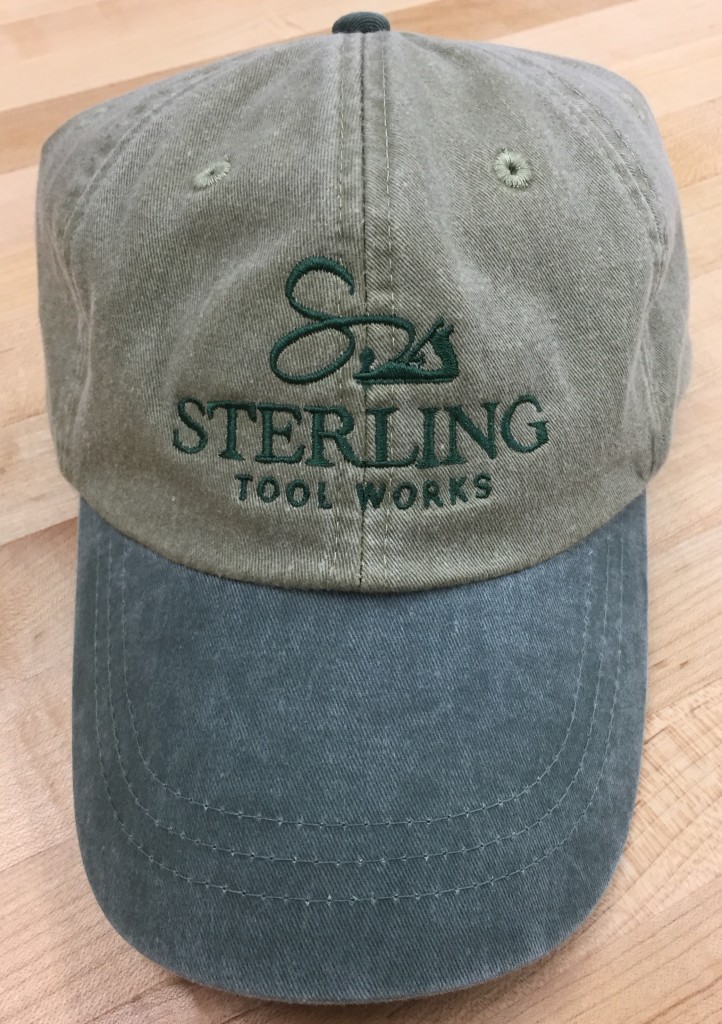 Sterling Saddle-Sling
The Saddle-Sling is a collaboration with a Friend of mine, Jason Thigpen at Texas Heritage Wood Works: www.txheritage.net.  He is a fine craftsman making incredible custom canvas aprons and other leather goods!   Each Saddle-Sling is made by hand with hand swaged rivets and grommets.  Saddle-Slings are available in Single, Dual and Triple position configurations for those that have the full suite of Saddle-Tail units.  Saddle-Slings are priced $20, 27.50 and $35 respectively and come with brass #5 slotted wood screws for installation.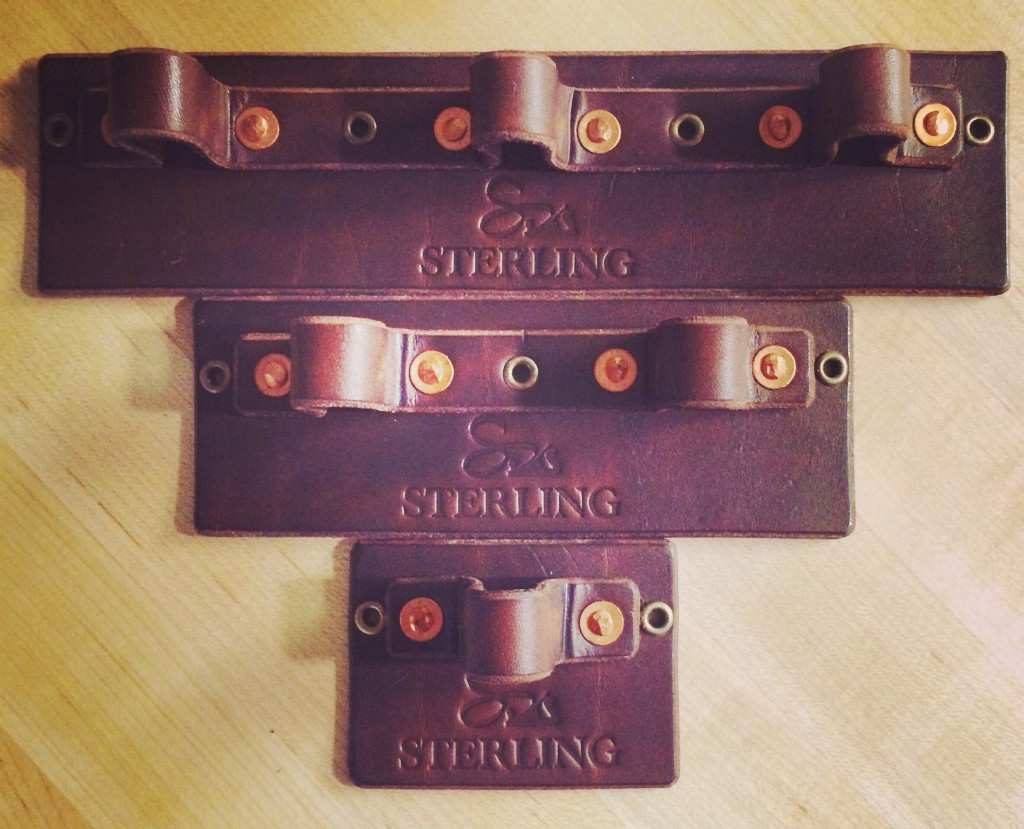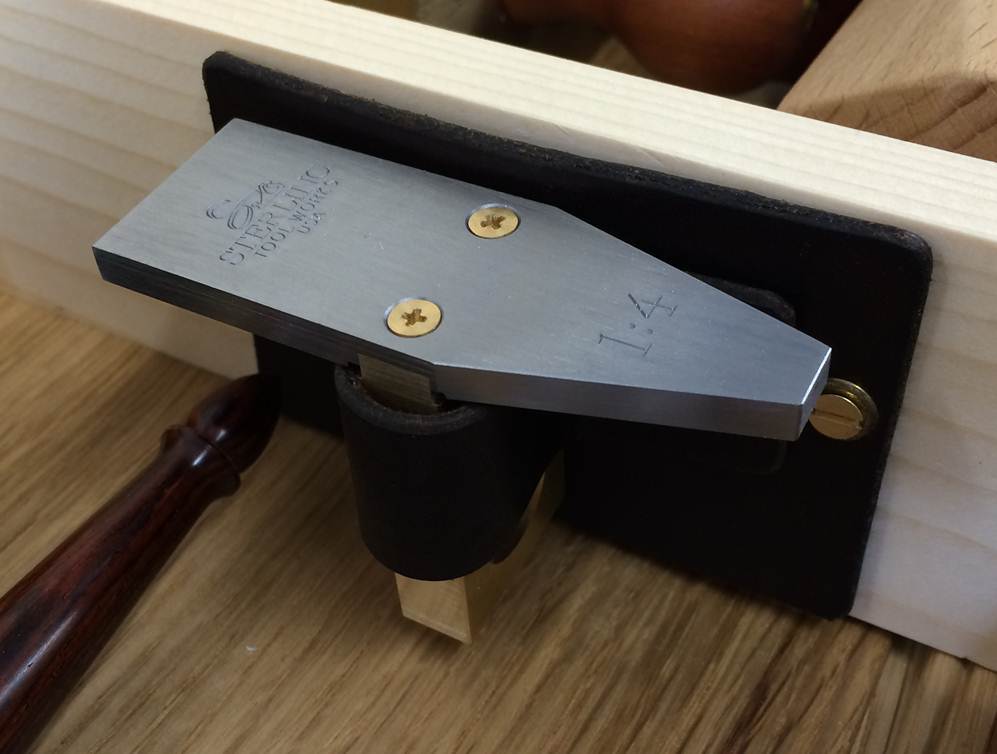 Sterling "Woobie" Cloth
For those not familiar with the Term "Woobie" it was started in 1983 with the Movie Mr. Mom with Micheal Keaton. The little boy loved his blanket which he called his "Woobie" . Fast forward to October 2008 when Chris Schwarz wrote a memorial for his Woobie (link here)The Woobie was then the affectionate name given by many hand tool woodworkers to their tool "rags". Fast forward again to August 2011 when Chris was introduced to "Super Woobie" by Deneb Puchalski of Lie-Nielsen Toolworks. Deneb had switched from traditional rags to micro-fiber cloths. (link here)
Micro-Fiber cloths are excellent for many uses, the grabby nature of the split micro-fibers cling to dust extremely well (this is also why they feel like they catch on your skin). High quality micro-fiber cloths will absorb a good amount of water so they are good at wiping down blades after sharpening on water stones. But the most popular use for Woobies are those that have been sprayed or soaked in Camellia or Jojoba Oil. These oiled "Tool Woobies" are extremely useful to wipe your steel and cast iron tools after use to remove any salts and perspiration left from your hands in addition to providing a thin layer of oil to protect these surfaces from rust.
The Sterling Tool Works micro-fiber Cloths are high quality cloths that are 16″ X 16″ in size (20-30% largerand and double the weight per square foot = more material and last longer) than the cloths found in retail stores like Walmart, Target etc. The Sterling logo is dyed into the fibers as opposed to a screened logo that would flake off after use and washing. Price for a single cloth is $6 and a pair is $10. Protect your tool investments!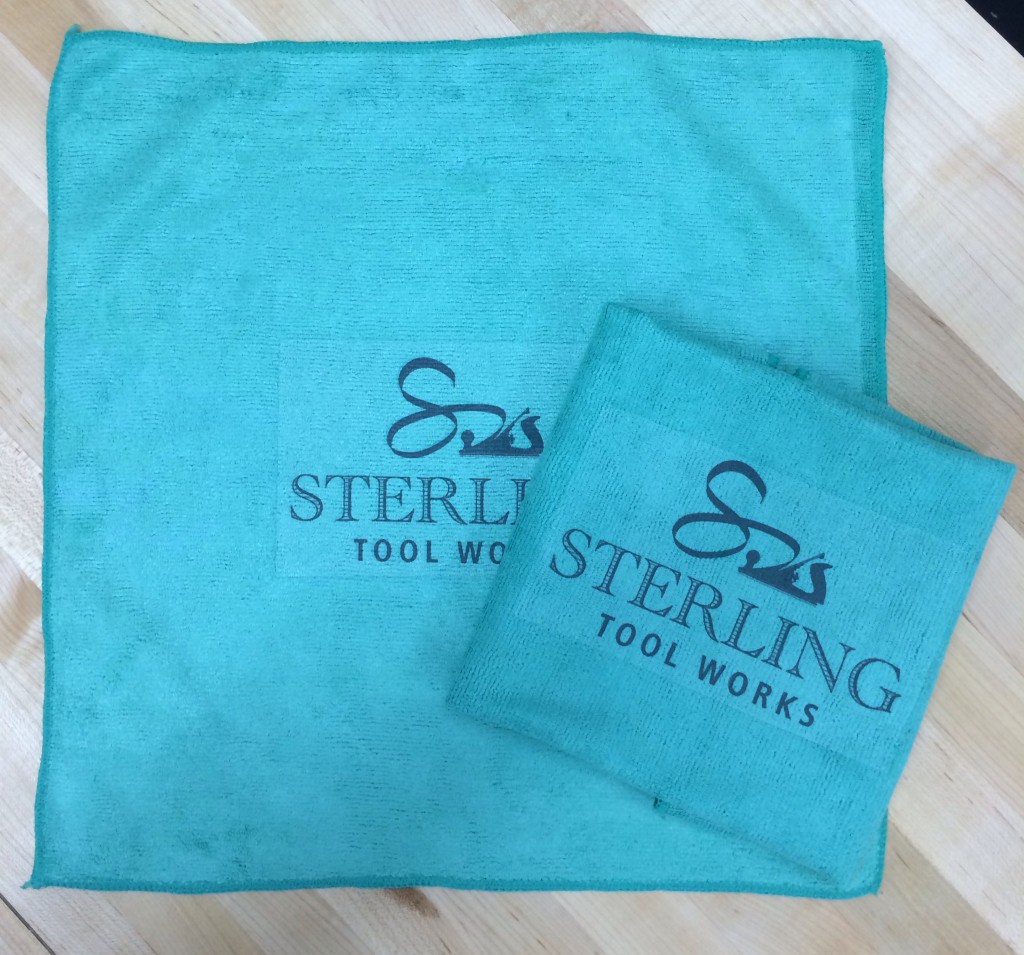 Sterling Bottle Opener
Our first "fun accessory" is not manufactured by Sterling Tool Works but is a quality stainless steel bottle opener that works very well.  The bottle opener is approximately 1.5"X7"with a large finger hole in the end opposite the opener, bartenders love this design as it slips in their back pocket easily. (click on image to enlarge)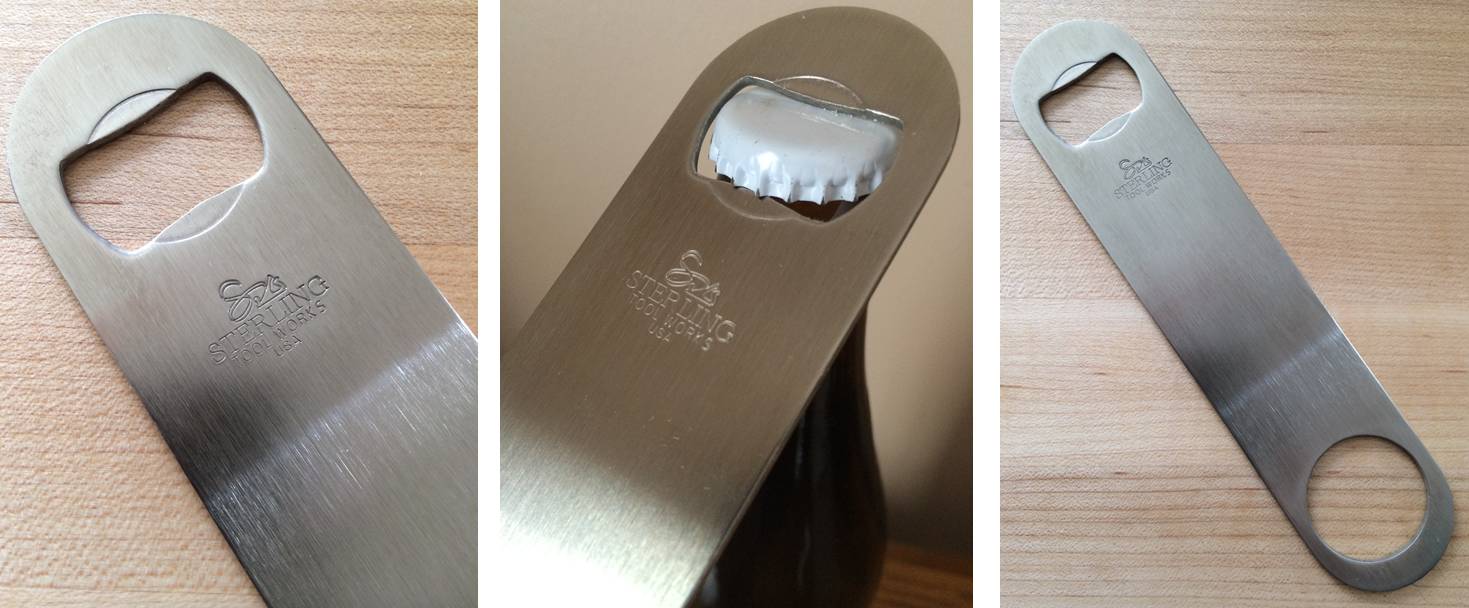 Support Sterling Tool Works when you open the frosty bottled beverage of your choice! $6 (plus shipping)
Copyright © Sterling Tool Works LLC 2013-2017